The director of Xbox's indie division would like you to believe that the Game Pass is not 'disruptive' to the gaming ecosystem despite the company's ambitions for massive PC growth. These comments were made in response to people wondering whether the popular subscription service would fundamentally change how gamers purchased games—or if they would purchase them at all—and reports that seemed to support that idea. The director seemed to feel that these concerns were natural, but overstated. Microsoft is simply spending billions of dollars to acquire first-party studios for the vibes, I guess.
Thank You, PS Plus, For Making My Backlog Even Bigger
"I wouldn't describe it as disruptive, because I don't think it is in the way that Uber came in and got rid of all the taxis in that industry," Xbox's Chris Charla told GamesIndustry.biz. "It's additive. People still buy a lot of games and they still buy a lot of games on Xbox. They buy games through Game Pass at a discount, which is what they get as members. And so I don't think Game Pass has been a disruptive business model, it's been additive in a really positive way."
Charla, the general manager of Xbox's indie division, compared Game Pass to the effects of digital distribution. He admitted that digital distribution was disruptive to traditional games retail, but claimed it was ultimately "additive" because not every game is big enough to justify putting it on a physical disc. "We continue to look at third-party games, and I'll talk about games from independent developers specifically...they're absolutely the foundation of Xbox," he said. Kotaku reached out to Xbox for a comment, but did not receive one by the time of publication.
Following this logic, Game Pass is a net good for gaming sales because it helps indie titles get eyeballs. But the tech giant is making bets on AAA giants like ZeniMax and Activision Blizzard, not the depths of its indie catalog. Even Xbox customers felt that their subscription was less valuable during dry periods between first party titles.
G/O Media may get a commission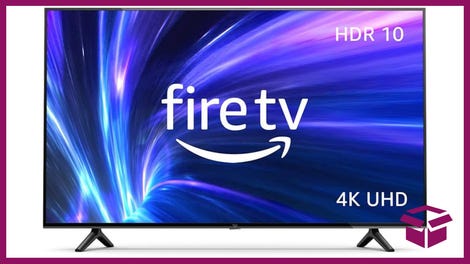 42% Off
Amazon Fire TV 50" 4K Smart TV
Incredible visuals
This smart TV has access to a wide array of streaming services, all of which are easier to navigate, has 4K visuals for a stunning picture, and comes with an Alexa Voice Remote too.
And we don't even have to speculate about Game Pass' effects. Despite Xbox head Phil Spencer's claims that the subscription service leads to an increase of sales, a filing obtained by a British regulator revealed that the Game Pass actually depressed game sales for 12 months after its launch on the service. Indie developers seem fine with it, likely because Xbox gives them money upfront to offset the risks of releasing their game. But the data shows that the Game Pass is changing consumer habits. We don't know how much because the exact numbers are redacted, but Microsoft's own data reveals that "adding titles to Game Pass would lead to cannibalisation of B2P [business-to-person] sales."
Even on the consumer side, there's no guarantee that the subscription service will feel nearly as benign in a few years. Xbox just wound down its $1 introductory offer for the Game Pass. Judging from the business models of other subscription models like Amazon Prime and Netflix, there's a non-negligible chance that the cost of Game Pass might increase in the future.
Oh, and Uber nearly destroyed the taxi industry prior to a major labor shortage. I'm hoping that Chala's comparison is inaccurate, rather than prophetic.