A game of Paradox's sci-fi strategy Stellaris can take so long that, in all honesty, I've never finished it. I always lose interest at some point and start a new civilisation because I mostly want to try out new weird ideas for a new weird empire, not actually rule that empire and fight its endgame wars. That makes me mighty interested in Stellaris Nexus, an upcoming turn-based spin-off which aims to offer a full multiplayer 4X experience in under an hour.
Stellaris Nexus obviously cannot be Stellaris running on an accelerated timescale, only a whole new game built out of some familiar pieces and ideas. And what Paradox have said and shown so far does seem quite Stellaris-y to me, and certainly 4X-y.
Up to six players will take build their own little empires as they vye for control of Nexus, the galactic throneworld. You'll explore space, research new technologies, develop star systems, build fleets of spaceships, engage in diplomacy, engage in espionage, engage in betrayal, engage in murder, you know, Stellaris stuff.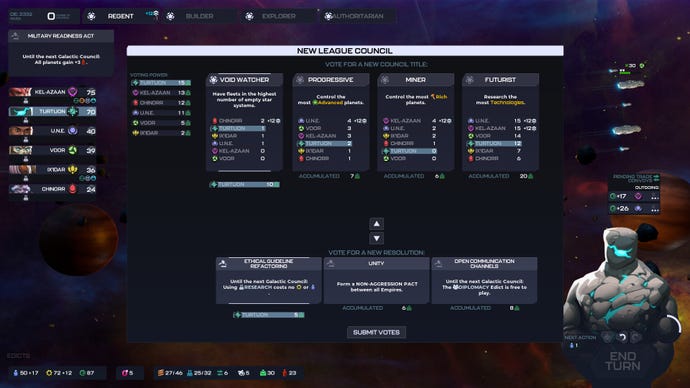 This one isn't made by Stellaris creators Paradox. The developers are Whatboy Games, whose previous game was decent deck-building tactics 'em up Trials Of Fire.
Stellaris Nexus is due to enter early access on Steam sometime this year. Before then, a demo will be available in the Steam Next Fest from June 19th.
I'm quite interested. Turning a 4X into a fast game with friends (or with strangers, if you want to brave the skill-based matchmaking) sounds great. The board game experience but not on a board, and with a computer enforcing the rules so I can't forget how it works or lose my little plastic moonmen.
Elsewhere in space, Paradox today also announced Star Trek: Infinite, a grand strategy game boldly coming from the studio behind 2016's Master Of Orion.
---
NotE3 and Summer Game Fest 2023 is in full-swing - see everything in our E3 2023 hub, as well as our selected highlights in our rolling E3 and Summer Game Fest liveblog.