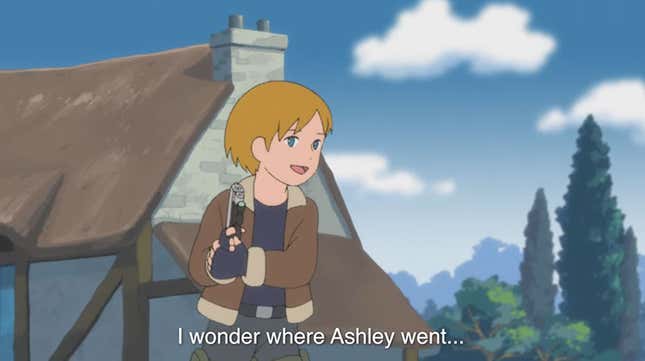 With Resident Evil 4's remake due out this week, Capcom's marketing for the title is swinging into high gear, and while that would not normally move any of my needles, this little anime they had made for the game is just too good.

Its full name is "Resident Evil 4 Anime PV Resident Evil Masterpiece Theater - 'Leon and the Mysterious Village' EP 1", which isn't the catchiest, but it at least gets the point across. It only runs for 56 seconds (and that's including title screens), but it is 56 seconds of pure joy for anyone who has ever played this game across its 117 previous releases.
"Story of my life" indeed, my guy:
If you were thinking that animation style looked familiar, that's because—as the credits at the end state—the clip was made by storied Japanese studio Nippon Animation, who among many other things are known for their old show Masterpiece Theater (hence the name in this case) which would showcase short anime episodes every week that were adaptations of existing works.
While the remake isn't out until March 24, reviews for the game went live last week, and for the 188th time people are finding that, yes, Resident Evil 4 is a good video game:
Out March 24 on PlayStation, Xbox, and PC, the Resident Evil 4 remake updates one of the best entries in Capcom's long running survival horror series. Following in the footsteps of previous remakes for Resident Evil 2 and 3, the newest game still sees Special Agent Leon S. Kennedy sent to a Spanish village to rescue the President's daughter from a weird cult. This time things are just much prettier, the controls and UI are more modern, and there's some new content like additional side-quests.
A number of places like IGN have given the game perfect scores, and it currently sits at over 90 on Metacritic. At the same time, not everyone is under the remake's spell. "Several smart changes; a few disappointing cuts," tweeted Edge magazine's deputy editor, Chris Schilling. "When it's good it's brilliant, but largely in the exact same ways as the original."