Wholesome Direct is my favourite showcase from not-E3, because I feel like it's a show directly catered to my interests. Cats, cooking, seaside towns, pretty landscapes, magical girls - Wholesome Direct has it all. This year we from the RPS Indiescovery Podcast watched the show and have plucked out a handful of games that we're looking forward to the most, which was pretty difficult. There were a lot of great games this year.
There were around 70 games spotlighted during the showcase, so there was no way we could possibly list them all, but we've done our best and here are our bestest best picks. If you're after more gaming news and announcements from this year's not-E3 check out our coverage of not-E3 2023, Summer Game Fest round-up, and Day Of The Devs round-up. For now though, have a pleasant scroll through which wholesome games we have our eyes on.
Station To Station
Liam: The second I laid eyes on Station To Station, I instinctively unfurled myself from my usual prawn-like sitting position and scuttled closer to the screen, so taken was I by the images on it. I just can't get over how good this looks. A relaxing take on railway management games, Station To Station's blocky voxel presentation is absolutely to die for. Liberal use of depth of field lends it a delicate, toy-like appearance, but the way its landscapes transform from barren to bountiful as you connect stations together is pure magic. I'm very excited to spend a couple of glorious hours drinking in this world, watching my collection of steam trains gently go about their merry way.
Sticky Business
Rachel: Haven't we all had that little thought in the back of our minds to just quit our jobs and start a cute Etsy shop? Well, Sticky Business is my fantasy brought to life. It's a laid-back puzzle game that casts you as the owner of an incredibly cute sticker business where you need to create, sell, and pack orders for stickers. I love that you can get creative designing your own stickers, and boxing them up all nice and neat looks so satisfying. There are also light story elements too, like hearing about the lives of your customers. I cannot get enough of this game, I'm such a sucker for a cute sticker IRL, and I slap them on everything. Very keen on this one, folks.
Tiny Bookshop
Rebecca: Tiny Bookshop has been leading my list of most-anticipated games of 2024 ever since I played the demo at EGX last year. The new footage shown at Wholesome Direct shows off more locations in the idyllic seaside town of Bookstonbury, which is giving me Untitled Goose Game vibes with its delightful hand-drawn art style, despite the apparent absence of naughty waterfowl. We also got to see our protagonist's interactions with members of the community and how those choices can affect the story: helping a local metal band promote their concert has a rather sweet result in this trailer. And, of course, there's a display of the all-important ability to recolour and decorate your caravan. Yeah, this is still my dream life simulator, and possibly the most relaxing management sim you'll ever set eyes on.
I Am A Caterpillar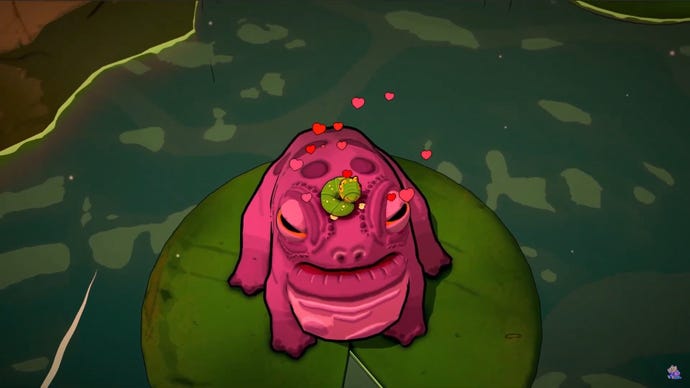 Rachel: More games about bugs please! I've been following the platforming silliness of I Am A Caterpillar on Twitter, as developer Joe posts the cutest gifs of the game, for a hot minute now. From this new trailer, though, we get to understand a bit more about what I Am A Caterpillar is about, and it might surprise you. Turns out this caterpillar is having a bit of an identity crisis. They don't want to be a butterfly and are quite content being a cute caterpillar, regardless of what the other woodland creatures say. It feels very Frog Detective in tone and the platforming and puzzle-solving look fun seeing as you're a creepy crawly caterpillar. What a treat.
Wood and Weather
Rachel: A sandbox sim where you're the omnipresent God of a cute, clunky toy town? Now that's a cool idea. In Wood and Weather's lovely trailer you can see the residents of the wooden world go about their merry day, and playing as a giant blue hand you can help them continue living their peaceful existence or be a little more mischievous. I can't wait to poke and prod my giant blue finger around this physics-driven toybox. No release date on that one unfortunately but let's hope it's soon.
Kibu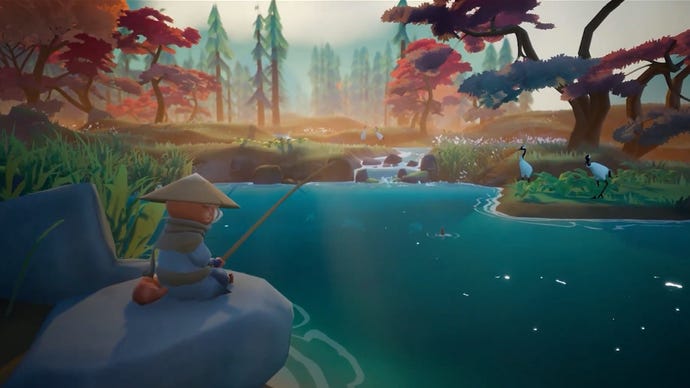 Liam: Oh, Kibu. Your solemn red panda protagonist has stolen my heart. Seemingly alone in an autumnal forest, they spend their days exploring the great unknown, chopping down trees and leaping over perilous gaps as the sun sets dramatically behind them. Back home they tend the fields, work on restoring a temple and drink a piping hot cup of delicious tea. If games are intended to fulfil a personal fantasy, I think Kibu has been made just for me. This critter is living the life I crave, one of uncompromised peace and total solitude. Fishing in azure coloured streams. Running free through dense, golden grass. Give me this game immediately. Thanks.
Henry Halfhead
Rachel: I need more goofy games in my life, so I am in love with Henry Halfhead. It's like the silliness of Wattam meets the Stanley Parable's narrator, only they're super nice and comforting. Playing Henry, you have the ability to jump into any object and control it letting you interact with scenes in silly ways. Henry might leap into a tap and make the water run for a nice bubble bath, or hoy himself into a coffee maker to make some delicious bean water. You get to follow Henry from when they were a baby to being an adult - and then becoming an old, wrinkly halfhead. It's bizarre, funny, and incredibly charming, and I can't wait to play it.
A Highland Song
Liam: Of course A Highland Song is a rhythm game. What a brilliant idea! I've never thought about it, but hiking, fundamentally, is a rhythmic activity. One crunching step in front of another. The gentle crinkle of your backpack as you trod along the dirt and stone and grass. Your breath, steady but even. The bubbling of a stream. The wind rustling through the undergrowth. It's music! And you, as you venture through its soundscape, are but one instrument within a larger orchestra. Inkle are some of the smartest creators in the industry, so it's no surprise that they made that connection when it came to their game about venturing through the Scottish Highlands on a quest to see the ocean. A hiking rhythm game with narrative and survival elements. What a glorious, inspired idea.
Disclosure: Nat Clayton is a level designer, and used to write for us for a while. Hi Nat!
Venba
Rachel: Venba finally a release date, and it's July 31st! That's not that far away and we're all very excited to finally play this gorgeous foody game. If you're not familiar with it, Venba is a story-driven cooking game where you play as an Indian mother who has emigrated to Canada with her husband and kid. During the move, Venba lost her family recipes so you'll be helping her restore them through cooking mini-games. You'll also be exploring the family's story and Venba's personal life through branching dialogue options in-between the food bits. You can watch the trailer above and I highly recommend you do as the meals look amazing. I can practically smell the spices through my screen.
Bubblegum Galaxy
Liam: Like Katharine, I am a big Dorfromantik liker. I've spent a long time spinning those tiny tiles, glueing them together until my screen is filled with quaint landscapes and picturesque villages. It's with delight, then, that we're starting to see a gentle trickle of titles inspired by Toukana Interactive's original concept. Bubblegum Galaxy is one such Dorfromantik-like, swapping quiet European terrain for alien planets. Gone are the swaying trees and flowing rivers, replaced instead by towering mushrooms and strange constructions of extraterrestrial design. You play as a calico cat with a house for a head, tasked with restoring planets to a solar system following a catastrophic event. Because. I mean why not, right? Dorfromantik with a whacky framing device. What's not to like?
Spirit Swap: Lofi Beats to Match-3 To
Rachel: We've had our eye on Spirit Swap: Lofi Beats to Match-3 To since we had RPS Magic Week, and wow have I played the demo multiple times since then. It's a match-3 puzzle game where you play as a cute witch with a big floppy hat who can cast spells into the puzzle grid for a higher score. There are story elements too, where you can meet other witches and demons to take on in match-3 play-offs or simply hang out. It looks super colourful, queer af, and a generally great time.
Everdeep Aurora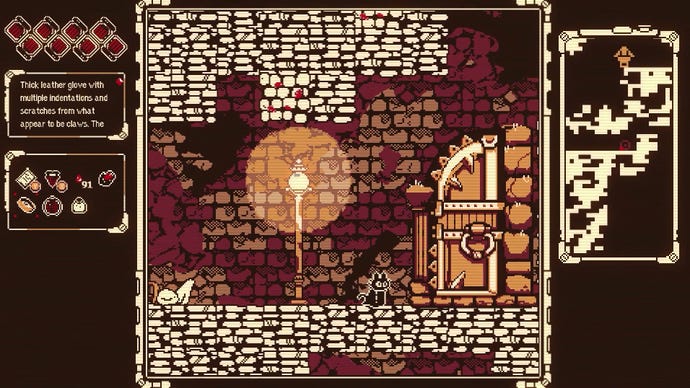 Rachel: Everdeep Aurora immediately caught my attention during the showcase. I usually love the bubblegum pop colour scheme that many of the spotlighted games during the direct have but watching the trailer for Nautilus Games' 2D adventure game, I appreciate the stark colours and dark pixel palette. You play as a little cat who is looking for her missing mother in the depths of the Everdeep which sounds quite serious in tone but from the look of the trailer is a little more lighthearted. I like the idea of exploring a gothic world without a bunch of horrible monsters out to kill me. These kinds of darker, moodier worlds can be cosy too in their own way, and Everdeep Aurora definitely captures that. A nice wistful refresher in a sea of sugary pastels.
Go-Go Town!
Liam: I think MySims - the Nintendo Wii spin-off of EA's mega life-sim franchise - is underrated. It probably sold, like, four million copies but still. The point stands. MySims reimagined The Sims as an Animal Crossing competitor, tasking you with fulfilling the needs of your neighbours within a small urban town. It had a specific vibe that I haven't seen replicated anywhere else. Until Go-Go Town!, that is. The next game by Prideful Sloth, Go-Go Town! Is a life-sim with big MySims energy. Tasked with restoring a run-down town, it's up to you to craft, mine, farm and cook your way to urban bliss. You can even hire staff members to run your various shops and cafes, which is a nifty addition. Also, everyone sort of seems to be made out of marshmallow, which makes the game look genuinely delicious. Do I want to eat the characters of Go-Go Town? I guess I'll find out when it launches at some point (hopefully) soon.
---
NotE3 and Summer Game Fest 2023 is in full-swing - see everything in our E3 2023 hub, as well as our selected highlights in our rolling E3 and Summer Game Fest liveblog.