Genshin Impact 3.6 has just wrapped up its content livestream for the latest update - A Parade of Providence! This means we just learnt more about all the new story content, new bosses, new events, and of course the pair of new characters: Baizhu and Kavah!
We've gone through and written up this quick Genshin Impact 3.6 livestream recap below, so you can quickly check out everythign new coming to the game in the coming weeks.
Genshin 3.6 new characters: Baizhu and Kaveh
Baizhu is a five star Dendro character that has been an in-game character for ages now, but is finally playable in Genshin Impact 3.6. They use a catalyst as their weapon, and will be earnable in the update's phase 2 character banner. Baizhu heals active character hwen you interact with herbs in the world. They are a healer, who controls a sprit that both heals and deals damage.
Following Baizhu, we've also got got Kaveh! They are a four star Dendro character. They also use a catalyst, and is a character players only recently met in-game and also is up for grabs in the phase two character banner. He passively reduces costs when creating furnishing for your tea pot, but can also burst Dendro cores in combat on command! They can also summon a sword for melee damage - making them a powerful damage carry.
Genshin 3.6 character banners
The two Genshin Impact character banners can be found below!
Phase one
Nahida (five star Dendro)
Nilou (five star Hydro)
Phase two
Baizhu (five star Dendro)
Ganyu (five star Cryo)
Kaveh (four star Dendro)
Genshin 3.6 new weapon and artefact sets
Genshin Impact 3.6 is bringing a new five star Catalyst: the Jadefall's Splendor! Chances are this will be perfect for Baizhu, so be sure to grab it if you want them on your main team!
In addition, we're getting two new artefact sets this update. These are:
Nymph's Dream
2-piece set: Hydro Damage +15%
4-piece set: After normal, charged, and plunging attacks, elemental skills and elemental bursts hit opponents, 1 stack of Mirrored Nymph will be triggered, lasting 8 seconds. While under the effect of 1,2,3, or more Mirrored Nymph stacks, ATK will be greatly increased by 7% / 16% / 25%, and Hydro damage bonus will be increased by 4% / 9% / 15%. Mirrored Nymph stacks created by normal, charged, plunging attacks, elemental skills, and elemental bursts exist independently.
Vourukasha's Glow
2-piece set: HP + 20%
4-piece set: Elemental Skill and Elemental Burst damage will be increased by 10%. After the equipped character takes damage, the aforementioned damage bonus is icnreased by 80% for 5 seconds. The effect increase can have five stacks. the duration of each stack is counted independently. These effects can be triggered even when the equipped character is not on the field.
Genshin 3.6 story quests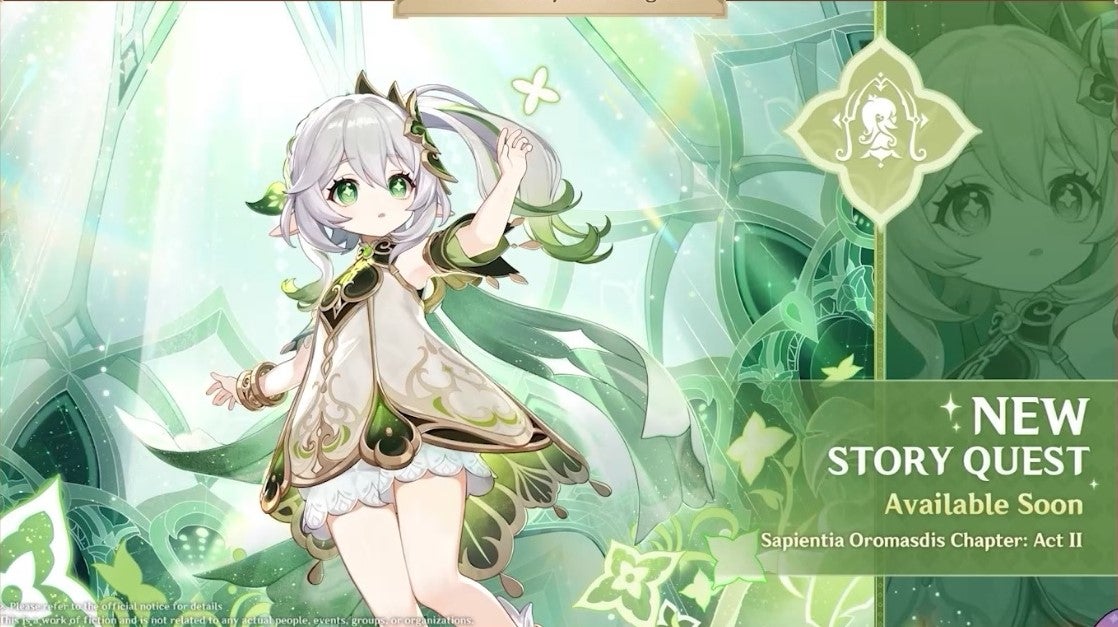 A collection of new narrative quests are also being added to the game in Genshin Imapct 3.6! These are:
Nahida Archon story quest: Part 2
Layla Hangout event
That first one is super important, as it will take you to the new zome opening up in Sumeru and introduce you to the new content being added there! Speaking of which...
Genshin 3.6 new zone, enemies, and bosses
A major part of Genshin Impact 3.6 is the introduction of a new part of the Sumeru desert, a place where gods beat back the abyss years ago, and terrible new enemies can be found even today.
There, you'll find two new bosses. The first, the Iniquitus Baptist, which is an abysal world boss that you'll be able to take on using resin. There's also the Dendro dragon! this three-phase fight is story critical to the update, and shoud act as the epic combat conclusion to the area, as well as a key part in Genshin's continuing narrative.
You'll also find new enemies roaming around in the wild: the Anemo and Hydro Hillichurl Rogues! These are powerful solo fighters you'll have to watch out for.
Genshin 3.6 events
You can find a full list of Genshin Impact 3.6 events below!
Academia Extravaganza
Fulminating Sandstorm
Brewing Developments
Overflowign Mastery
The Recollector's Path
Genshin 3.6 main event: Academia Extravaganza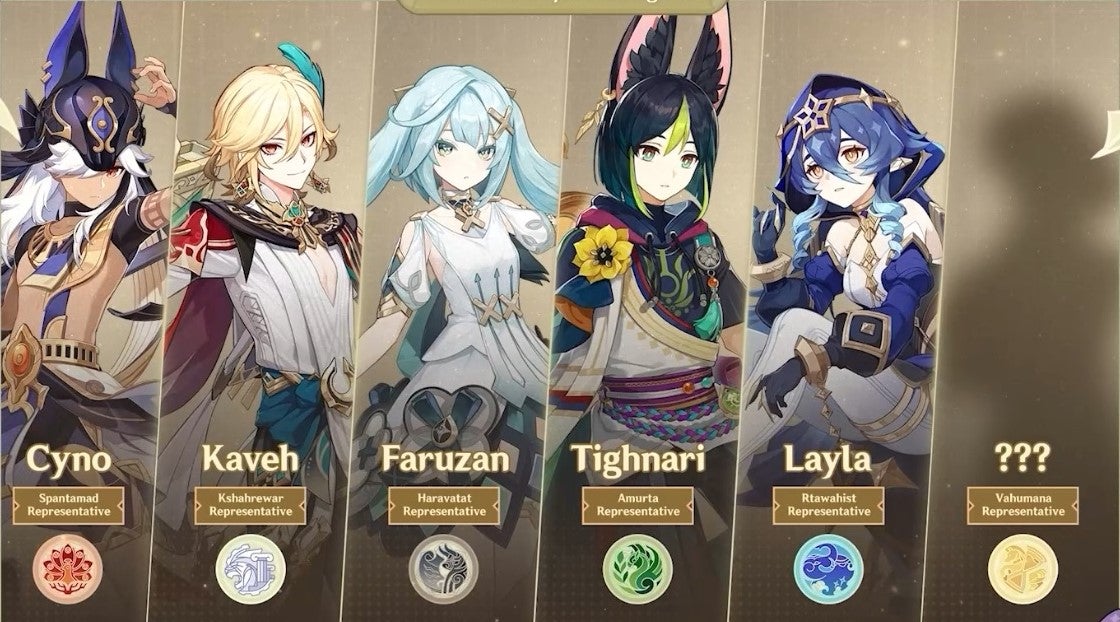 Academa extravaganza is the main event! It features six returning characters and different minigames, such as creating roads with limited resources and other puzzles. There's also exploration, stories and quizes, combat trails and more.
At the end of the event, one of the six characters representing their specific school will be chosen as the champions. So stick around to find out which school is best!
Genshin 3.6 livestream codes
The three 24 hour Genshin Impact livestream codes are as follows:
9ARE6VLJT34H - 100 primo gems and 10 upgrade crystals
KBRE7D4KA2MM - 100 primo gems and 5 upgrade tomes
7S9X6V4JB2M9 - 100 primo gems and 50,000 mora