Of all the enemies in Blizzard's action RPG game Diablo, The Butcher remains a fan favourite. His penchant for fresh produce (specifically meat) and undying rage have etched him into Sanctuary's bloodstained history books, but he doesn't return as just a straightforward Diablo 4 boss, instead ambushing players at random. At an exclusive developer Q and A in London, I asked Blizzard why.
The Butcher has been in every Diablo game so far except Diablo Immortal – but given that's a live-service game he will likely drop into Westmarch at some point. He's even appeared in other Blizzard worlds, specifically the now-defunct MOBA Heroes of the Storm (RIP).
While the devs could easily have created a fully-fledged, dramatic boss fight for the character in Diablo 4, they took a very, very different approach. While your ploughing through dungeons slaying the hordes, you'll randomly be set upon by The Butcher, who can appear in any dungeon, at any point, at any time. It's this unpredictability that Shely explains is a throwback to the early days of Diablo.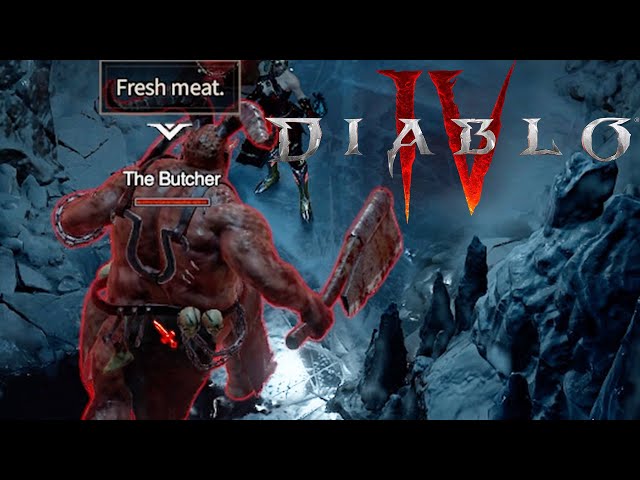 The Butcher encounter is "a great example" of how Shely and the team have attempted to capture the darkness of Diablo 2 while maintaining the fluidity and changeability of Diablo 3. "There are lots of great boss fights in Diablo 4, and we could have made another boss fight themed around The Butcher, but we recognise that, like many other elements of Diablo, the really key thing about that encounter is the sense of it being startling and scary.
"Those are the things that were really important to bring forward from Diablo 2, so we realised that feeling in a different way in Diablo 4 than just making a cool fight."
"It is a cool fight," he tells PCGamesN with a grin. "But it was a process of asking 'what is the real essence that people [think of] when they say they love Diablo 2.' What are they talking about specifically in each individual case, and how do we capture that."
In my Diablo 4 beta journey I have yet to encounter The Butcher – perhaps I'm not fresh enough meat considering I'm playing the slightly emaciated Necromancer. With every hallowed hall I traverse and bloodstained cathedral I examine, I find myself taking a sharp inhale of breath wondering if this is the moment. That spine-tingling sensation is exactly what I felt in Diablo 2, and it's very much a welcome feeling.
If you too want to be set upon by a very angry demon, there's plenty of them to go around in Diablo 4. We have a rundown of all the best builds for each of the five Diablo 4 classes to help you out, as well as the location of Diablo 4 world boss Ashava – the biggest, scariest demon you'll meet in this test phase.